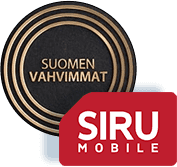 Siru isn't a workplace, it's a lifestyle!
You've seen millions of bad user experiences, and you're sick of them. Do you want to make financial services more accessible for everyone without having to pay a hundred thousand euros?
Siru Mobile is an innovative tech company. We're a bunch of diverse people who together move fast and aim high. We live and breathe tech. We love to travel. Sometimes we even do it together. We're passionate about what we do, and we encourage out of the box -thinking. We're driven, and we get easily excited. We get a kick out of learning new things. We try. We fail. We succeed. And we celebrate our successes together.
Freedom of working
At Siru, work is a more relaxed affair. You can easily do your job from anywhere in the world as long as you have an internet connection. We believe remote working should be for everyone, so we're always looking to make it easier for our teams to get their jobs done wherever they are!